This year, I am rooting for Speller No. 200, Tino Delamerced.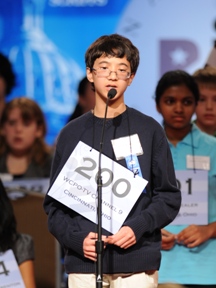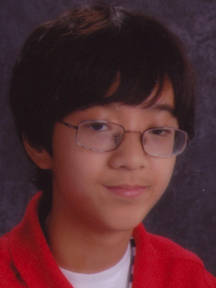 WCPO-TV Channel 9, Cincinnati, Ohio
Age 13, 7th grade
School: The Summit Country Day School
Hometown: Cincinnati, Ohio
A nationally ranked chess player, Tino was just a second grader when he beat a grandmaster during a simultaneous chess exhibition. He recently took home first place in the Cincinnati Scholastic Chess Series—in the high school division. Musically inclined, Tino plays clarinet and is an accomplished pianist. He regularly volunteers his time playing piano for the residents of a nursing home. His sister, Anna, tied for 25th place in the 2008 national finals.
Words spelled to qualify for the semifinals:
sedentary
parody
calque
warrant
quomodo
verbiage
Micawber
congenital
cemetery
secede
abyss
scalene
thorough
arrogance
mores
affluent
rebuttal
asylum
onychorrhexis
limousine
vacillatory
cubicle
isthmus
décor
civitas
nineties
pogrom