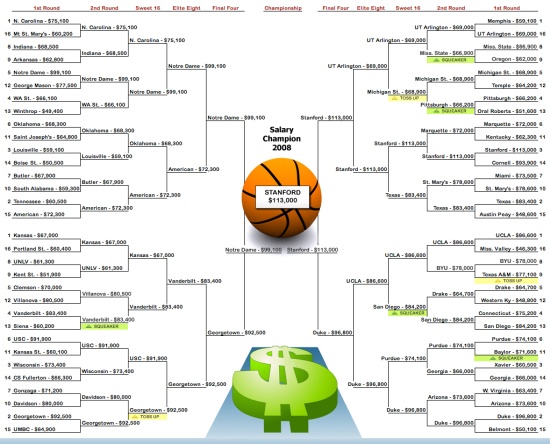 Duke made the Final Four in one of the few things that I care more about than college basketball, money. Duke lost to the eventual champion Stanford in the bracket.
Payscale.com did their bracketology picks
based on how much alumni make 5-15 years into their careers. The bracket isn't completely fair because Cornell has the #4 overall but had a tough matchup against Stanford in the first round.
How the salary was calculated
Identify the employees in our database who attended each university in the NCAA Men's bracket
Select those who are 5 to 15 years into their careers: this is about 30 to 40 years old
Calculate the median annual total cash compensation for the selected employees
The Top 4 in Salary
Stanford ($113,000) - Wins it all!
Notre Dame ($99,100) - Goes to the championship game
Duke ($96,800)- Makes the final four (as usual; Go Blue Devils! :-)
Cornell ($93,900)- Out in the first round to Stanford